ABOUT PERIAKTOS PRODUCTIONS, L.L.C.
Since 1994 Periaktos Productions, L.L.C. has produced entertaining and engaging CLE Theatre productions on ethics and professionalism. We have presented CLE Theatre programs to more than 150 satisfied client organizations around the country and our programs remain unique and unduplicated anywhere in the CLE industry.
Our productions have been acclaimed, not only for their educational content, but also as exceptional entertainment. Over the past sixteen years, Periaktos Productions has had a significant impact on the landscape of Continuing Legal Education and, at the same time, maintained its impeccable theatrical reputation. From the company's inception, the mission has been, first and foremost, to create theatrically viable and engaging works which simultaneously contain profound educational components. Universally, the productions are met with accolades such as "spellbinding" and "powerful." The American Bar Association selected Thurgood Marshall's Coming! to receive an Honorable Mention Award in Theater at the 2005 Silver Gavel Awards Competition for Media and the Arts.
Our name is derived from "periaktoid," a three-sided scenic unit used in the ancient Greek theatre … that suggests our three primary goals. First and foremost, we want to entertain, which literally means, "to hold between." Only by engaging attendees can a "classroom" activity move from a passive experience to one in which true learning occurs. Secondly, we strive to educate our audiences, which, in the classical sense means "to draw out." We want to evoke ideas and responses to the issues and situations we present and facilitate dialogue about them - not instruct or indoctrinate audiences with our own opinions. Lastly, we hope to enlighten our audiences, which means to "reveal truths." In the broader sense this means helping attendees to acquire new wisdom and/or understanding of situations to help them see options more clearly. Playwright Sidney Michaels wrote, "In the dark of the theatre we remember ourselves." Things are not always what they appear to be and the theatre is a wonderful way to lend a bit of insight and look at what's below the surface. In the end we hope that our programs provide an opportunity for lawyers to learn about themselves and explore their own ethical foundations by looking at the lives of others.
All of our productions have been professionally filmed and are now online as CLE Movie webcasts! Each CLE movie webcast features a post-performance panel of prominent jurists discussing the ethical and justice issues that arise out of the movies. Please visit with us if you have comments or questions about our CLE Movie webcasts. We'd like YOU to enjoy both the show AND your CLE experience!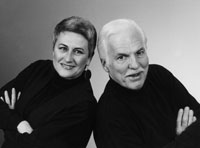 Graham Thatcher
Graham Thatcher is the Artistic Director and primary performer for Periaktos Productions. Since appearing in his first acting role at five years of age, Graham has performed in or directed over 150 community, university and professional theatre productions. He is the co-author and solo performer in
Clarence Darrow: Crimes, Causes and the Courtroom, Maxims, Monarchy
and
Sir Thomas More
and
Impeach Justice Douglas!
toured by Periaktos Productions. He is the co-author and director of
Thurgood Marshall's Coming!
, and
The Women Lawyers Club
. Graham has authored several other theatrical plays, including commissioned works and The Mask of the Jaguar, about the cultural clash between the Maya and Europeans during the Spanish Conquest.
Over the past thirty-five years Graham has engaged students of all ages in university classrooms, business board rooms and convention meeting spaces. He serves as a communications consultant to businesses and individuals and is the co-creator and presenter of Periaktos Productions' CLE programs, "Word of Mouth: A Workshop in the Art and Ethics of Oral Communication for Lawyers." He holds a B.A. from San Francisco State University, an M.A. in Theatre from the University of South Dakota and a Ph.D. in Philosophy from the University of Minnesota. He has been listed in Who's Who in American Education and Outstanding American Educators, and is a recipient of the Governor's Award from the Minnesota Council on Quality.
Anna Marie Thatcher
Anna Marie Thatcher is the Managing Producer for Periaktos Productions and occasionally appears on stage. She is an attorney and has worked for thirty-five years with artists and visual and performing arts organizations as an arts consultant, producer and director. She is the co-author and producer for all Periaktos programs and is also the director of
Clarence Darrow: Crimes, Causes and the Courtroom
,
Maxims, Monarchy and Sir Thomas More
and
Impeach Justice Douglas!
Anna Marie is a licensed member of the Minnesota Bar, and continues to work with artists and nonprofit arts organizations. She holds a B.A. from Dakota Wesleyan University (Mitchell, SD), an MA in Theatre from the University of South Dakota, and a J.D. from Hamline University School of Law (St. Paul, Minnesota). She is a member of the American Bar Association, the Minnesota Bar Association and ACLEA (Association of Continuing Legal Education) and is listed in Who's Who in American Law. Anna Marie also serves as volunteer for the First People's Fund, which provides support for Native American artists and as President of the Black Hills Playhouse Alumni Association.
Graham and Anna Marie make their home in the Black Hills of South Dakota.